Zimbabwe - the great outdoors
If you are looking to get away from the stresses of urban life, Zimbabwe should be at the top of your list. Spot amazing wildlife in the many game reserves, explore the Eastern Highlands, camp around the sparkling Zambezi Valley and of course see one of the seven natural wonders of the world, the mighty Victoria Falls.
1. Lake Kariba
This enormous man-made lake is known as the perfect spot for majestic sunsets and is a popular tourist attraction. The lake covers over 5000 sq km and offers many fun activities for visitors. This includes fishing, viewing bird life and the many wild animals attracted to the waters - you can even hire a houseboat to enjoy the lake.
2. The Zambezi Valley
Stretching all the way from Victoria Falls to Lake Kariba, the stunning river valley is full of life. Hippos, rhino, elephant, lion and crocodiles can be seen here and Mana Pools National Park is the perfect place to see wildlife up close on a game drive. It is a stunning park that is a designated World Heritage Site. There are plenty of camps along the river banks where you can stay and enjoy the great outdoors.
3. Victoria Falls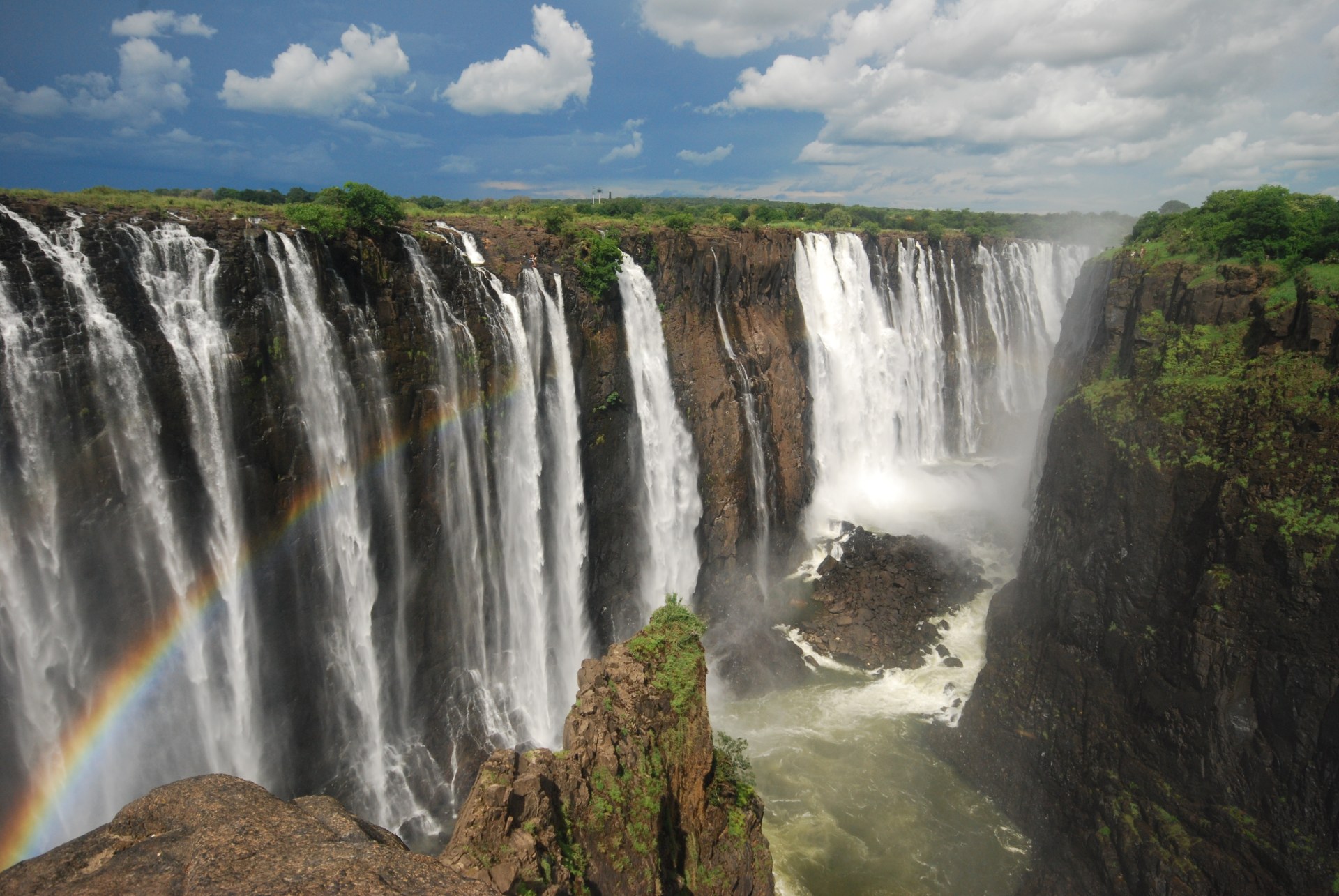 The awesome spectacle of Victoria Falls (also called Mosi-oa-Tunya, which means the smoke that thunders) is known across the world and you can't come to Zimbabwe without seeing it yourself. Voted one of the seven natural wonders, it is one of the most popular attractions in the country. If you are feeling adventurous you can even bungee jump off the Victoria Falls Bridge (111m high) or experience white water rafting on the Zambezi River. You can actually camp nearby too.
4. Hwange National Park
Hwange National Park is must-see for visitors and if you want to get close to nature there is no better place. It is the largest game reserve in Zimbabwe and covers an area of 1.4 million hectares. Situated on the border with Botswana, it is home to a huge variety of wildlife and many different habitats. It is known for having over 100 different species of wild animals including buffalo, giraffe, warthog, leopard, zebra and white rhino. There is also a wealth of bird life.
5. Other natural wonders to see...
Nyanga National Park is in a picturesque part of the Eastern Highlands and there are some spectacular mountain views and pretty waterfalls to explore.
Matabo National Park (pictured above) is another UNESCO World Heritage Site and has a special protection zone as it's possible to see rare black and white rhino in this area. Situated in the unique Matobo Hills, they feature incredible granite rock formations and rugged terrain perfect for hiking. It is also an area famous for the high concentration of ancient rock paintings, dating back 13,000 years.
Gonarezhou National Park (meaning place of many elephants) is also worth visiting as it is another incredibly stunning park with wild, beautiful landscape.