The World's Most Beautiful Sunset Spots
We have been working hard to bring you a list of the best places to view the sunset. Enjoy!
1. Taj Mahal, Agra, India

Built in the 17th century, this stunning location is one of the world's best places to watch the sun go down. Thousands of tourists come from all over the world to watch this marvellous white marble structure turn pink as the sun fades away.
2. Masai Mara, Nairobi, Kenya
This is the best destination to catch the sunset for animal lovers. Travellers will immediately be taken back to their childhood memories of The Lion King, as they experience the sun slowly seeping into the night and the wildlife awakening. Dusk is probably the best time to catch the active leopards and lions – making this venue just that little bit more special.
3. Ipanema Beach, Rio De Janeiro, Brazil
What sets this location out from the rest is Brazil's perfect weather. Catching the sunset is ideal on a Sunday; the boardwalk of the beach is closed off to any traffic making the area clearer, quieter and less polluted. Bliss!
4. Ayers Rock, Northern Territory, Australia
Ayers Rock or Uluru is situated in the Northern Territory of Australia. This 500 million year old rock is the world's largest monolithic structure and is one of the most beautiful places to watch the sun disappear. As the sun leaves for the night over the Uluru's 348 metre peak, the strong red of the rock is showcased in the night sky.
5. Santorini, Thia, Greece
Said to be one of the most peaceful havens on earth – Santorini boasts some of the greatest views of the Aegean Sea. As the sun disappears into the tranquil waters, the hilly landscapes flourish in colours of red, blue and gold.
6. The Great Pyramids, Cairo, Egypt
The Great Pyramids of Giza are very busy tourist attractions, but the sunset on this terrain is a sight you will never forget. As the sun falls the behind the peaks of the pyramids, the sandy desert is momentarily painted red before sudden darkness.
7. Montmartre, Paris, France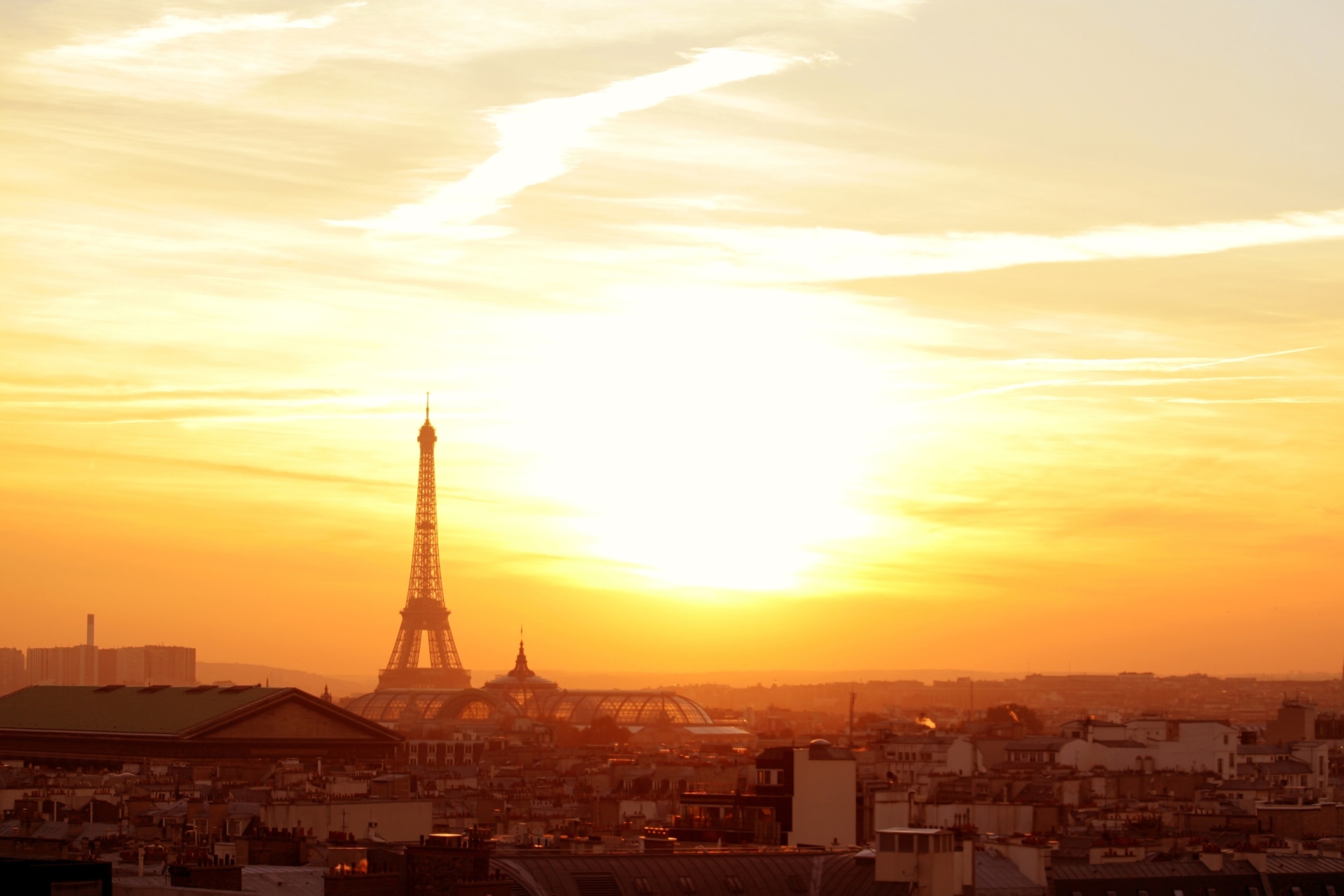 Montmartre is a 130 metre high hill situated in the North of the most romantic city in the world, Paris. The view over Paris from the steps of Montmartre is only heightened by the sunset. The experience is added to by the view of the basilica Sacre-Coeur on the opposing side. A definite must see.