Top attractions of Bosnia and Herzegovina
Bosnia and Herzegovina has everything to satisfy all travellers. From architecture, history to nature, your itinerary will be filled up every day with the amount of activities that you can do here. You can get the best of both worlds where interesting and attractive places mixes with culture and natural heritage. Take a look at our highlights of the magical country of Bosnia and Herzegovina.
1. Baščaršija – Sarajevo
One of the most charming market centres in the country. Step into a timeless world of the city and be transported back into the olden days. Baščaršija is rich with history, cultures and religious buildings.
2. Vjetrenica caves
One of the top attractions in Bosnia and Herzegovina as well as one of the most fascinating caves around. With over 6km of passageways to explore you will find something different each time from species living in underground climates to cave drawings.
3. Hutovo Blato Nature Park
Love birds? Then you are at the right place. With over 240 migratory bird species and dozens more that make the marshlands home, you are bound to spot a few of your favourites. The park offer visitor's boat tours through the wetlands as well as many walking and cycling paths for you to explore the park grounds.
4. Kravice Waterfall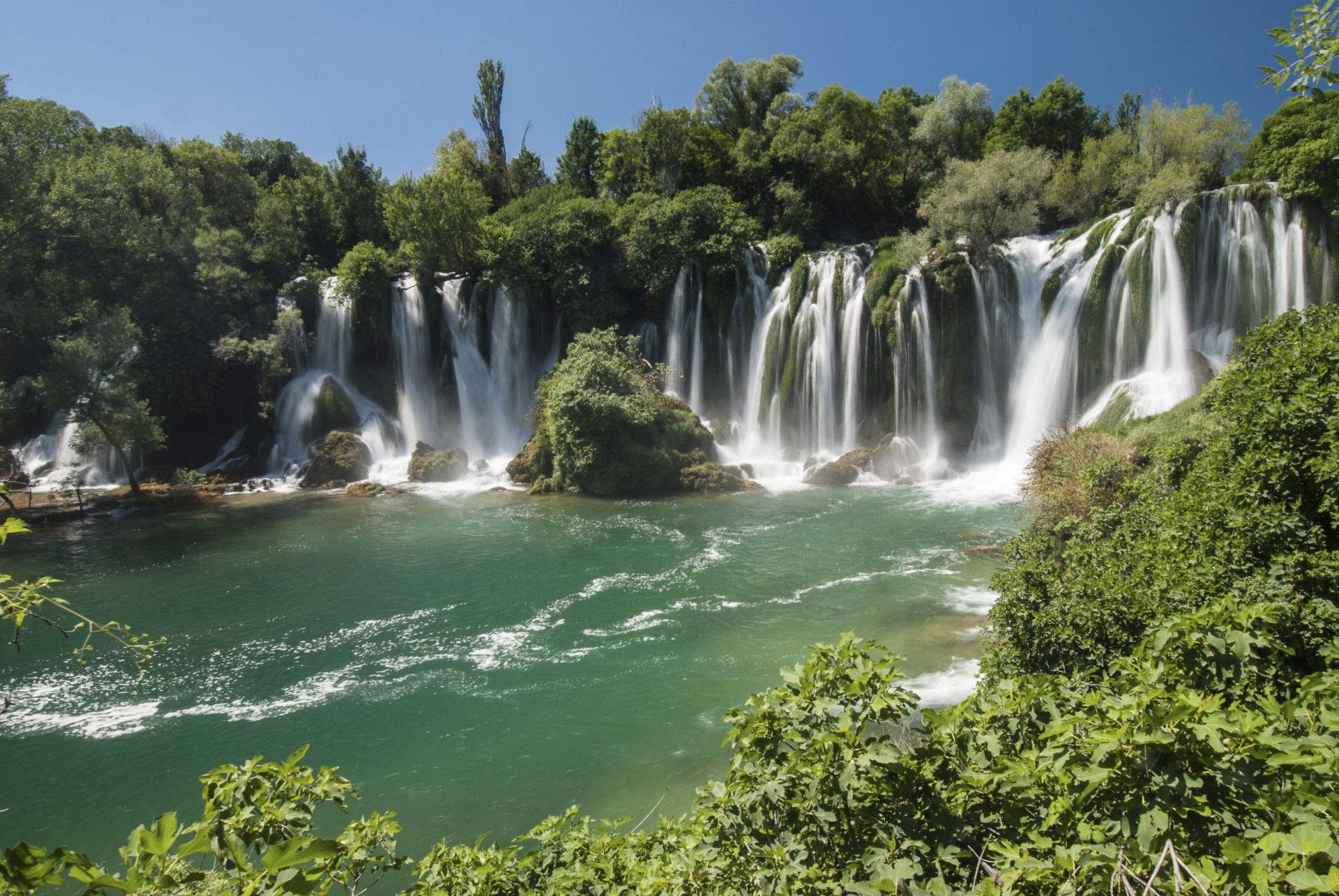 For the best of both worlds where you can enjoy a relaxing day by the waters or for all you thrill seekers out there you can also jump off rocks at a height of 30feet high, head to Kravice waterfalls. One of the largest waterfalls in Herzegovina it also provides the perfect picturesque moment.
5. Vrelo Bune
Also called Bune spring, it is the source of the Bune River and lies just outside Blagaj, it is probably one of the most beautiful springs in Europe. Visiting Vrelo Bune results in a relaxing day trip where you can explore the springs as well as trying out the many restaurants situated around the river.
6. Tunnel of Hope Museum
The tunnel of hope was named during the siege of Sarajevo. However most of the tunnel has collapsed but this museum still has 20 meter sections and gives visitors a view of what it was like during those times. Fall deeper into this museum through the numerous pictures hung along the walls of the tunnel and the 20-minute long video conveying the whole experience back then.
7. Mostar's Stari Most (Old Bridge)
This bridge is the symbol of Bosnia and Herzegovina, from its destruction to its reconstruction it has now become the most recognizable landmark of this country. Visiting Bosnia and Herzegovina is never complete without a visit to this bridge.