Who doesn't enjoy a spectacular location to relax and have a cocktail or two? Here are some stunning examples of rooftop bars to do just that.
1. Sky Bar, The Grand Daddy Hotel, Cape Town
Located in the vibrant hub of Cape Town, on Long Street, the hotel is famous for its airstream rooftop trailer park and it's Sky Bar. Kick back and relax with a thirst quenching glass of champagne on this unique rooftop surrounded by Cape Town's skyline - now how refreshing is that?
2. Radio Rooftop Bar, Melia Hotel, London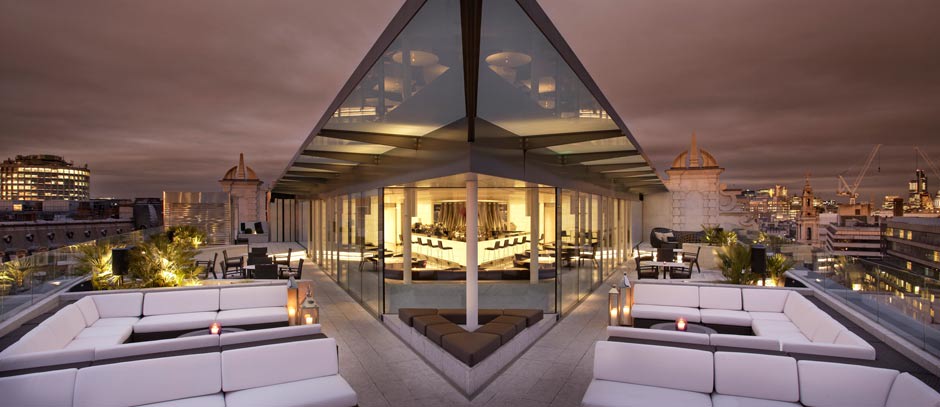 Plan your escape to Radio, located on the 10th floor of the Melia Hotel with dazzling views of London. With its upbeat vibe, delicious tapas, wide choice of cocktails and views to die for, this rooftop bar should definitely make it to your list.
3. The Rooftop Terrace, Hotel de Rome, Berlin
This beautiful rooftop terrace, at the Hotel de Rome, offers guests an impressive view of Berlin's historic city centre. This hotel provides the perfect lounging experience while serving customers coffee, homemade ginger lemonade, ice tea, special cocktails, vodka and of course beer.
4. Hudson Terrace, New York
Overlooking the Hudson River in midtown Manhattan, Hudson Terrace is known as a top evening entertainment hotspot, with a trendy lounge and bar, modern nightclub and even a retractable rooftop.
5. Flair, Ritz-Carlton Hotel, Shanghai
As one of the highest outdoor bars in Shanghai, Flair, on the 58th floor of the Ritz-Carlton Hotel has breath-taking view of the Pearl Tower right before your eyes. This fashionable lounge serves seafood and Asian tapas, catering to both indoor and outdoor dining. Definitely one for the chic set.
6. Brisa Del Mar, Hotel Duquesa de Cardona, Barcelona
This terrace in the romantic boutique hotel, Duquesa De Cardona, has an amazing view of Barcelona's Port Vell marina to the fore and the church of La Mercè to the rear. It is the perfect place for couples and honeymooners.
7. Luna Bar, Kuala Lumpur
This super-chic and breezy rooftop bar with a massive pool installed in the centre has one of the best view in town. It is located on the top floor of the Pacific Regency hotel apartments on the 33rd floor. Customers can enjoy dinner by the poolside bar in the evening, followed by drinks and music from the in-house DJ into the night.