Route 62 – Exploring the Famous Wine Route of South Africa
Stretching through the Western and Eastern Cape Provinces, the Wine Route covers a total of 25 towns and boasts a plethora of activities besides wine and brandy tasting – there's stunning mountain ranges, hiking opportunities, 4x4 trails, skydiving, motorcycle tours, camping sites and so much more. The memories made from your experience whilst exploring this stunning route will have you coming back to visit time and again.
Take a lovely scenic drive as far down the route as you'd like
Just the drive itself through the Wine Route is absolutely breath-taking. Make sure you bring plenty of padkos, or 'road food' in Afrikaans to supplement the drive through the many mountain ranges and passes that you will be travelling through. Roll the windows down and feel the fresh breeze on your face and the sun on your skin as you whizz past the beautiful scenery.
Graham Beck
Situated in the Robertson Wine Valley, Graham Beck Wines pride themselves in providing a relaxed atmosphere for which to sip your wine whilst looking out to the scenery that surrounds the farm. With many award winning wines such as the Cap Classique Brut Rose 2009 (Methode Cap Classique is South Africa's version of champagne), the well-educated and experienced staff will guide you through your tasting experience with their extensive knowledge of each and every wine that is produced at Graham Beck. For a sweeter taste, try the chocolate pairing for R50. MCC tasting is R75pp and Game Reserve tasting is R25pp. Should you wish to just taste the reds and whites on offer, then the wine tasting is free.
Platform 62
Platform 62 attracts the eye as one passes by; upon entering the car park you see the majestic steam locomotive that completes the station theme as one of the must-see stops on your way through Ashton. Platform 62 is so diverse; upon entering you are surrounded by old antiques and art, whilst classical music from 'Piano Man' as he is known, plays in the background, providing a soft ambience. If you take a right into the wines area, you will see many shelves stacked high with wines from many different farms – so if you want to buy wine in bulk for your collection – this is the place to go. In the centre of this room is the wine tasting table – I recently tried Muscadel for the first time and it was very sweet! The staff are very knowledgeable; from personal experience, upon explaining why I liked a particular wine, one very similar was suggested for the next tasting. If you go into the next room, you will see a large range of dried fruit, olives, stunning art and the lovely restaurant area. The food they serve comes in big portions with a friendly smile.
Hike up to the Old English Fort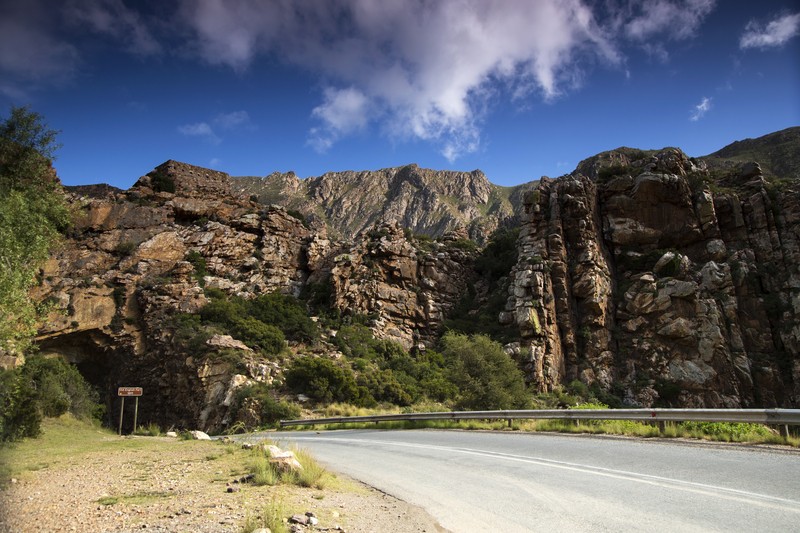 Built in 1899 by William Robertson, the Old English Fort was branded a National Monument in 1999 and was used in the Montagu and Second Boer War from 11 October 1899 to 31 May 1902. Sitting on top of the tunnel in Cogmanskloof, the hike up lasts only15-20 minutes and is very easy to do and provides the most amazing views of the surrounding valley. You'll be glad to know that there is parking to the left of the road, as well as a couple of benches, tables and rubbish bins for the well-needed picnic upon arriving safely back on the ground.
Cango Caves
Book one of two separate tours at the Cango Caves; situated just 29 kilometres from Oudtshoorn, the caves are an intriguing network of stalagmites and stalactites that are just waiting to be discovered. If you are left in complete awe about the caves – we know you will be – then there is an interpretive centre that will further explain the history and geology of the caves, as well as a restaurant and gift shop.
Montagu Hot Springs
After indulging in wine tasting at one of the many wine farms in Montagu and gazing upon the old-style farm houses in Long Street, relaxing in the mineral hot springs is a must! Book yourself and your friends or family in at one of the many resorts around Montagu, as they often offer discounted access to the springs. Montagu Springs is a good place to go to, if you want stay in a chalet for some pampered 'glamping'. If camping is your thing, Montagu Caravan Park is great for campers and caravans alike – that is if you don't mind paying full price for the springs. Both resorts offer private pools and have many facilities for you to explore.
Touwsberg Nature Reserve
At Touwsberg Nature Reserve, you will see the most outstanding, undisturbed natural landscapes decorated by native and indigenous flora and fauna such as fynbos and mountain veld, as well as free-roaming wildlife.
The Leopard Trail and Wine Tasting in Bonnievale
Bring out your wild side with the 4x4 trails in Bonnievale or take the Leopard Trail tour through the mountains of the Breede River valley. Then finish off your day with some wine tasting at Bonnievale – the range of wines is amazing – from high end expensive reds to crisp, light summer drinking whites.
Boplaas Brandy and Port
Just thinking of the Boplaas Farm reminds me of the sweet, pink-hued Cape Pink port and Cape Vintage Reserve port with its ruby-red colour and rich taste. Boplaas has a long history rooted in the Nel family and has been exporting port to the UK for hundreds of years. The tasting room is in Little Brak River, between Mossel Bay and George. Even if brandy is not your taste – you must definitely try the brandy, it is so smooth and well produced that you may well begin to like brandy. Boplaas is one to visit if you find yourself down this end of Route 62 – you will not be disappointed.