Red Sea Riviera you will fall in love with
Revel under the sun in the Red Sea Riviera and enjoy some of the best seaside and family activities in eastern Egypt. Located near the Eastern Desert and south of the Sinai, the Red Sea Riviera is a long coastal area full of beautiful beaches that lead to the Red Sea. Here you'll be able to swim among dolphins, dugongs and an overwhelming number of flora and fauna. Discover top destinations to visit on the Red Sea Riviera.
Hurghada City
Spanning over 40km of pristine coastline, Hurghada City has year-round sunshine, incredibly beautiful coral reefs and dozens of exciting attractions and that laid back holiday vibe. Although it's one of the top-three diving destination on the planet, there is way more this place has to offer - beach fun, extreme water sports, clubbing and golfing to name a few. Temperature can reach highs of 18°C and lows of 42°C.
Safaga
Astounding reefs, amazing kite and wind surfing conditions, never-ending beaches of black and gold sand dunes, and more... that what Safaga is all about. Once a small port town, exporting its abundant phosphate to the rest of the world, Port Safaga has grown into a major touristic hot-spot and a world-famous water-sports destination.
Best time to visit is from February to June and September to November, when temperatures range between 25 - 30°C. Divers will also be tempted to come in the hotter months of summer, when water temperature reaches peaks of approximately 28°C!
El-Gouna
El-Gouna offers countless interconnected islands, beautiful turquoise lagoons, amazing golf courses, luxurious beach-front resorts and an endless range of water activities. Temperatures on this part of the Red Sea are extremely pleasant and moderate in winter when the average is between 17-25°C hence El-Gouna is known as a perfect honeymoon destination and a dreamlike location for wedding celebrations.
Dahab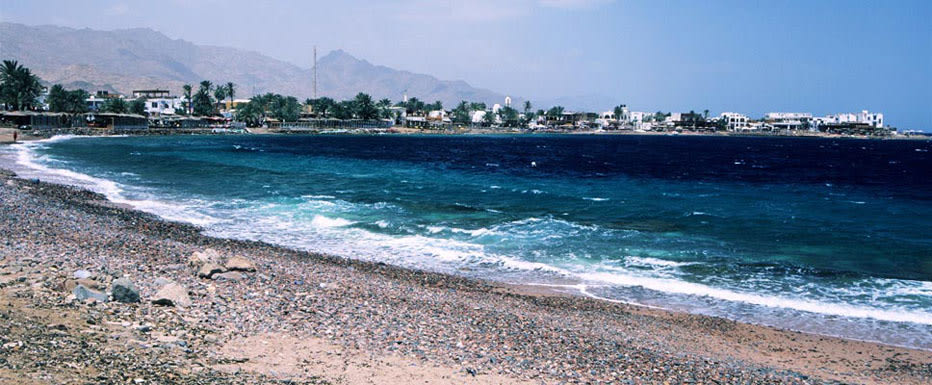 Of all the Red Sea destinations, Dahab is probably the most appealing for those who want to soak up some sun in pristine beaches, relax in laid back atmosphere and try local restaurants. There are also plenty of cozy local stores to go shopping. The beaches are public and the coral reefs are a few flipper strokes away from the shore. From the coast of Dahab, you can see the incredible spectacle of Sinai mountains dropping right into the sea. It is located 90 km away from Sharm El Sheikh and 87 km away from Nuweiba. Did you know that Dahab means "gold" in Arabic?
Makadi Bay
Enjoy the turquoise waters and beautiful desert landscapes! Set in a beautiful natural bay, the luxurious resort town of Makadi offers you tranquility and peace of mind like no other town in Egypt. Let go of your stress at one of the Spas, or play a round of golf with friends while enjoying the amazing scenery. You can laze on the beach or by your resort pool, enjoy the luxury of the provided services, visit Souk Makadi, dance in the bars and night clubs, and head to a nearby city of Hurghada. Makadi is also surrounded by Egyptian Eastern Desert, with its wealth of natural beauty and things to see.
Marsa Alam
Since the opening of its international airport in 2001, Marsa Alam has become a great Red Sea destination for diving enthusiasts. Nestled between the sea and the desert, this town offers all kinds of accommodations, ranging from upscale comfort establishments with complete Western amenities to Bedouin-inspired eco-lodges. The nearby National Parks of Gebel Elba and Wadi al Gimal are home to a stunning variety of birds and desert animals. Marsal Alam is also known as a therapeutic destination. So whether it is the beach, the desert, the reefs or a combination of sightseeing and activities you are interested in, you are sure to love Marsa Alam!
Nuweiba
Welcome to Nuweiba, Sinai largest oasis, where fine-sand beaches are peppered with Bedouin beach tourist camps. Temperatures in winter are around 20°C and 33°C in summer. Nuweiba is a destination where you can unwind and relax away from the usual mass tourism hustle and bustle. It is also a perfect destination to go on exploration tours into the depths of the Sinai Desert: explore St. Catherine Monastery, experience Mount Sinai trekking or explore the nearby Red Sea destinations such as Taba, Dahab and Sharm El-Sheikh.
If you are more of a laid-back traveler, imagine an afternoon nap under a palm tree or in a bamboo hut set out on the beach a favorite among backpackers candle-lit dinners and barbecue parties, fresh seafood feasts at the town local restaurants, and some great shore dives.
Soma Bay
The very exclusive Red Sea resort of Soma Bay is an ode to relaxation and recreation, a haven of upscale pampering and leisure only, and it's located only 45 kilometres south from Hurghada International Airport.
With year round sunshine and pleasant temperatures, the 10 sq km Soma Bay boasts all the amenities, activities and options you could think of while on your dream Red Sea Holiday in Egypt.
Experience the delight of a week or even a weekend at Soma Bay, it is only a 4-hour flight away from Europe, which makes it a perfect destination for your next golfing, pampering, diving or family fun getaway.
Sharm El Sheikh
With sunshine and warm waters all year round, Sharm El Sheikh is the closest destination to Europe where you can soak up sun, dive among amazing corals reefs, and enjoy the sea any time you need a break from routine. The climate is lovely and dry all year long with temperatures ranging between 20° and 25°C in the winter months, whereas in summer the temperatures go up a little reaching highs of 30° to 35°C. Sharm El Sheikh boasts the widest array of fun, exciting and even crazy water and extreme sports: besides diving, snorkeling, sailing, wind and kite-surfing, you can even try sky diving or parachuting from a helicopter on your next holiday in Sharm El Sheikh. Add to that endless nights spent at local bars, nightclubs and beaches dancing the night away or the magic of an existing safari into the mountainous Sinai Desert landscape and you will know why Sharm is ranked among the best vacation destinations in the world.
Sahl Hasheesh
Located 18 km south of Hurghada City, the Sahl Hasheesh International Resort Community is a booming fully integrated and luxurious resort. Walk through the elegant neighborhood alleys of this modern resort town, stroll down on the wooden pier to the beautiful sandy white beach, where comfortable sun loungers and beach huts await you, dive in the amazing ruins of the Sunken City just a few palm strokes away from the shore, surrender yourself to the relieving hands of spa professionals, and after the sun goes down enjoy the various entertainment programs at your resort.
Need more convincing? Watch the video below to find out why Egypt should be your next travel destination!