Must-See Marrakesh - Visit the new side of the city!
Being in Marrakesh means there are always activities to take part in, places to shop, great food to eat and people to meet. Come follow us as we take time to explore its modern side as see how it became known for its cool city vibe and go-to chic destination!
See how Saint Laurent started it all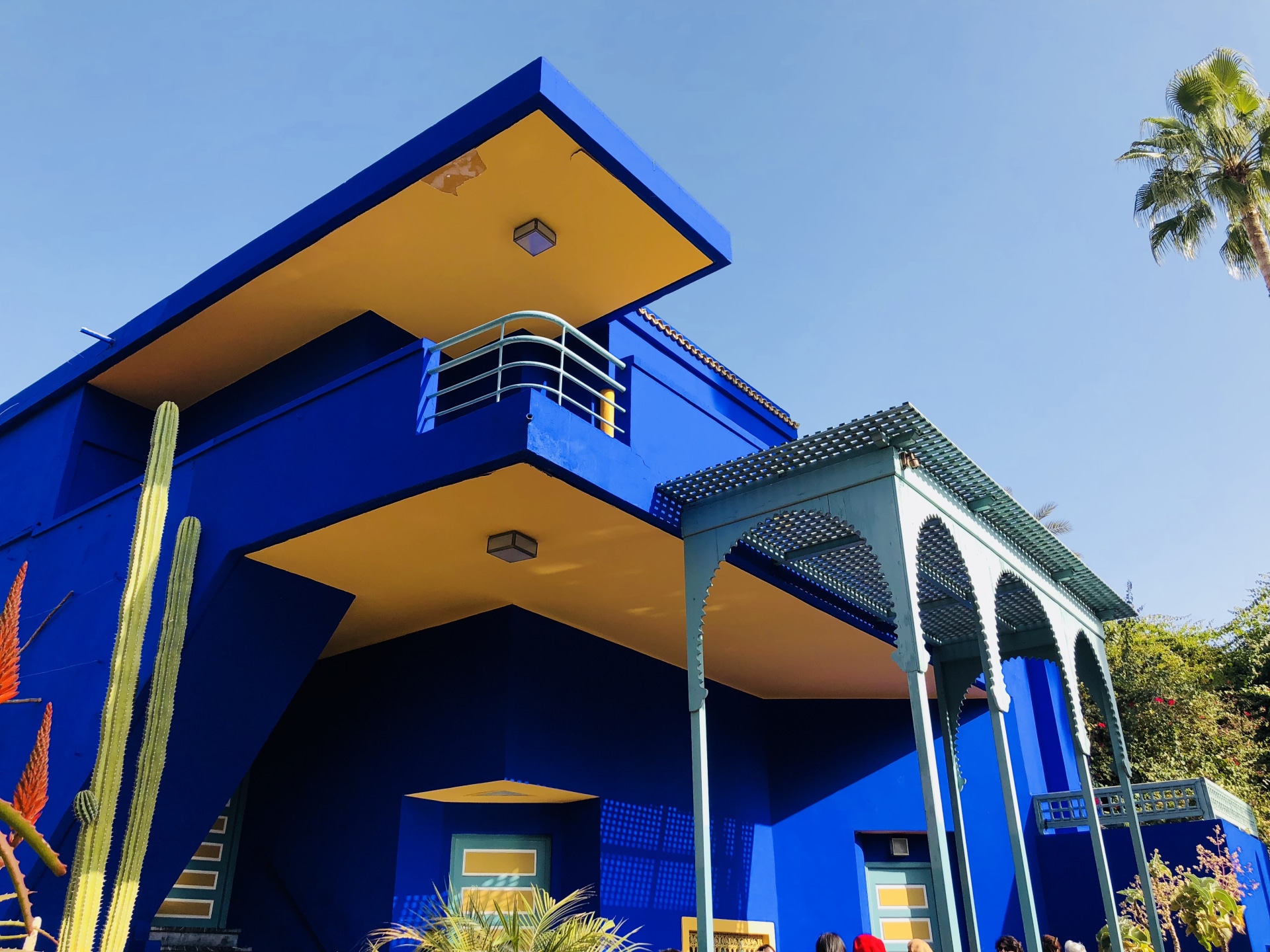 Set amidst gardens with giant cactuses, ornamental ponds, bamboo groves and palm trees sits Jardin Majorelle, one of the most notable modern buildings in the city. Formerly owned by the world-famous fashion designer Saint Laurent before being donated to the city, the home-turned-museum is a beautiful oasis and a social-media worthy delight.
As you enter through and old wooden doorway off the main street, you'll feel as though you've just stepped into another dimension - with an incredible mix of architecture, an abundance of modern art and landscaped gardens (including over 300 different plants from 5 continents) decorating the grounds.
Stroll around one of the walkways, past ornamental ponds and shaded areas, reaching the main house itself – a striking blue and yellow exotic exterior and with a gallery, café, shop and interesting Berber (original Moroccan inhabitants) museum on site too.
A newly opened YSL Museum can also be found next door, in a state of the art modern building dedicated to the fashion guru himself and exhibiting his most famous clothing. Make the most of your time at these modern tour spots; see YSL Museum in the morning and head next door to Jardin Majorelle for lunch and a stroll (after the numerous coaches of tourists have departed)!
What we did: We purchased tickets for all 3 sites (YSL Museum, Jardin Majorelle and the Berber Museum) from the YSL ticket office where the queue is much shorter. Purchasing all-site tickets at once also meant we were able to bypass the lines for each and head straight to the front of the queue and saved us money (costing around €15 per person all together, or €20 if purchased separately).
Remember: there's lots of walking to be done here and whilst there are plenty of places to sit back and relax, it's wise to wear your comfiest shoes!
Top tip: The taxis outside the YSL Museum can be costly – you should be paying around 40 dirhams €3 for a one-way ride to/from the main Djemma El-Fna market or Medina areas. Go knowing how much you are happy to pay and remember to haggle!
Come and visit Morocco - the "farthest land of the setting sun", a destination rich in contrasts that beckons you to discover two millennia of history.