Sometimes bigger is better so let's celebrate famous giant creations in the world.
1. Giant Fork, Vevey, Switzerland
Is it a bird, is it a plane? No it's a giant fork. Certainly the most unusual addition on our list, the fork stands 8 m (26 ft) high and is embedded in the lake. It was erected to celebrate the Alimentarium's (Museum of Food's) tenth anniversary.
2. Big Banana, New South Wales, Australia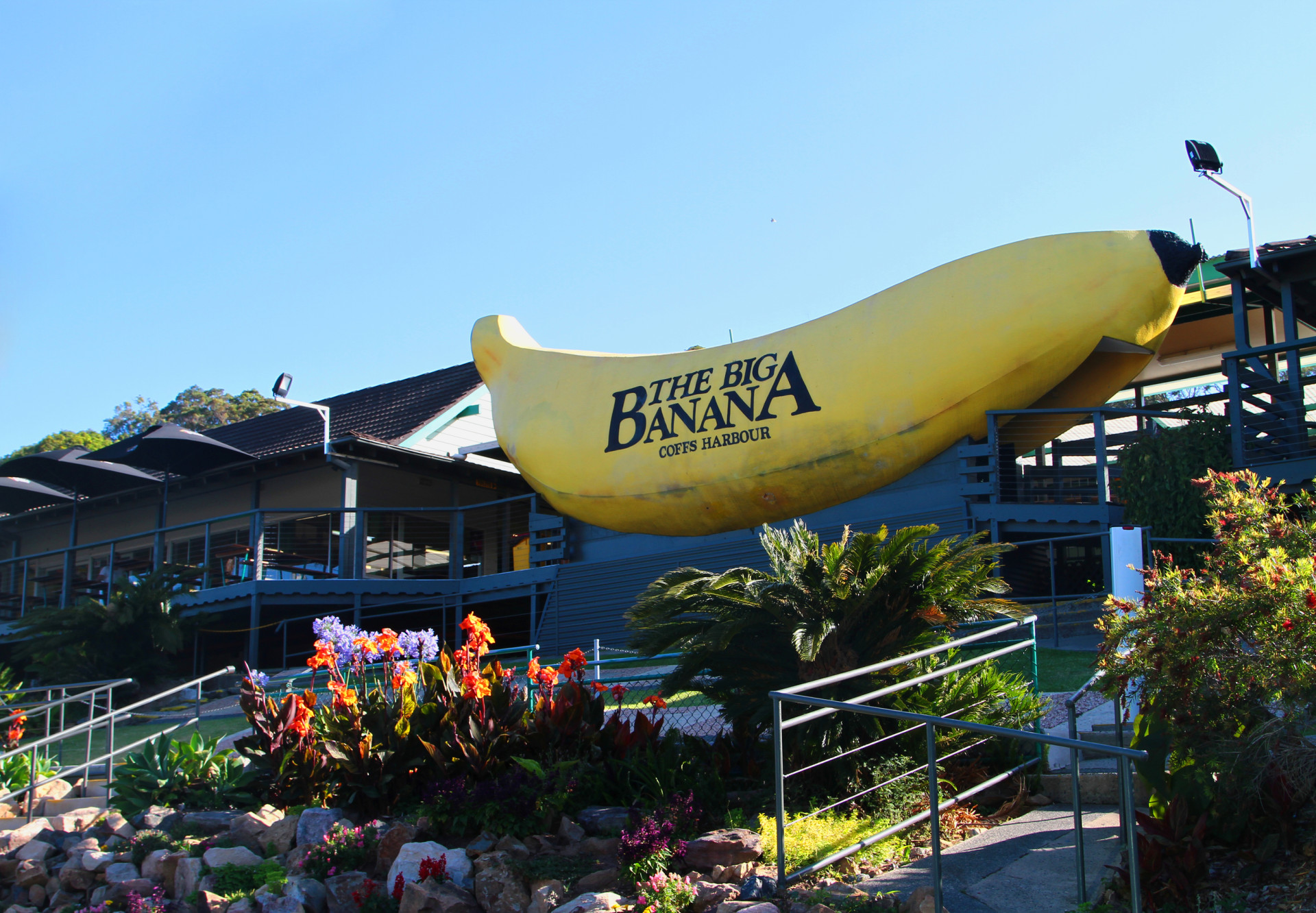 The - very hard to ignore - giant yellow fruit in Coffs Harbour has become a tourist attraction on the East coast of Australia. It is one of several giant and slightly bizarre objects that feature as landmarks here, including a big golden guitar in Tamworth, a large lobster in Kingston and a big pineapple in Nambour, Queensland. You can also buy banana related products galore!
3. The world's largest buffalo, North Dakota, USA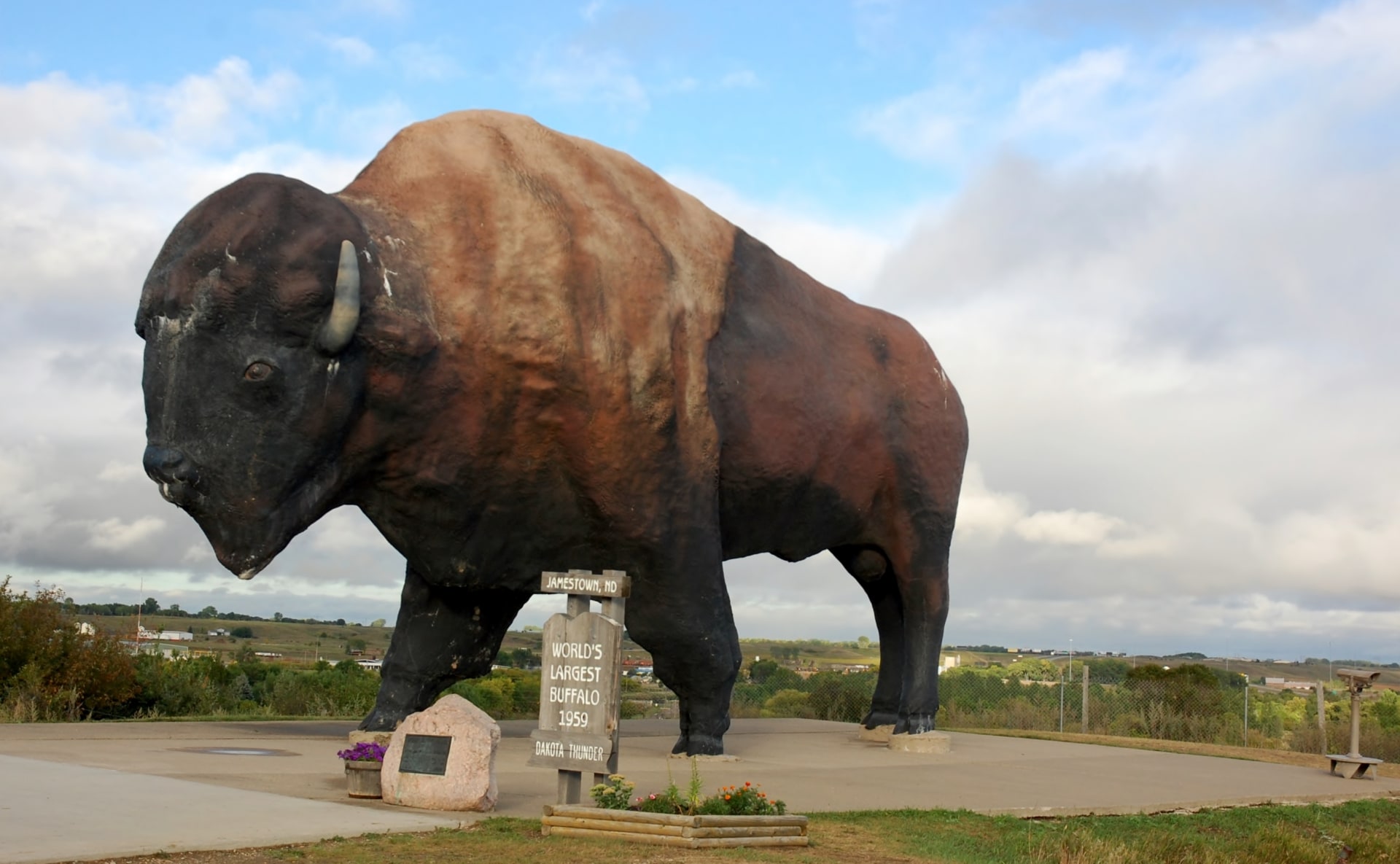 The giant buffalo sculpture is in Jamestown, USA, nicknamed Buffalo City because of the sculture. Its credentials are impressive at 26 ft (7.9 m) tall, 46 feet (14 m) long and weighing 60 tonnes. In 2007 it got a new look to make it more life-like (see real buffaloes pictured above to compare). This furry beast has a name too - Dakota Thunder, after a competition to name it took place in 2010.
4. Leshan Giant Buddha, Leshan, China
As the 'tallest pre-modern statue in the world', it is an impressive 233 ft tall and is made entirely of stone, carved out of the rock face. This ancient giant looks very serene next to the river, facing Mount Emi, and has been named a UNESCO world heritage site.
5. Rodina Mat (The Motherland Calls) statue, Russia
The Statue of Mother Russia in Volgograd is a dramatic and inspiring sight. It is one of the world's largest sculptures, at 87 metres tall from the top of the plinth to the end of the sword, and was built to remember the battle of Stalingrad. It represents the flight of Mother Russia and weighs a whopping 7,900 tonnes. No-one would mess with her!
6. Giant Rubber Duck, worldwide inc. Amsterdam, Sydney, Pittsburgh & Hong Kong
There have actually been several huge yellow rubber ducks, designed by Dutch artist Florentijn Hofaman, with the idea of bring back childhood memories. The biggest duckie was a record breaker at 26×20×32 metres (85×66×105 ft) tall and weighing over 600 kg (1,300 lb). They form part of a world tour, exhibiting the duck in 14 cities around the globe.
7. Swords in Rock (Sverd i fjell), Hafrsfjord, Stavanger, Norway
No, it's not something out of Lord of the Rings, these huge bronze swords are set in the rocks in Hafrsfjord and stand at an imposing 10 metres high. They are a monument to the Battle of Hafrsfjord, fought here in 872, when Norway became a united kingdom. Standing against the beautiful backdrop of the fjord they are an impressive sight.