Kenya - the water sports paradise
For absolute exhilaration, the simple idea of being on or inside water is unbeatable away from a busy career life where fast food near me spots are everything. For a wide variety of water sports the Kenya's wild rivers, lakes and the expansive Indian Ocean offer you the perfect opportunity for both motorized and non-motorized water sports. If you prefer the allure of water to dry land, on your holiday Kenyan has a good mixture of over and under water activities you could dive into.
Diving
Kenya is becoming increasingly popular as a dive destination, as has wilderness area hid beneath the surface of the Indian Ocean, a wilderness just as rich, diverse and ripe for exploration as any of the game parks. The calm turquoise waters of our beaches lie in the protective shelter of reef after reef, home to a myriad bounty of sealife. Below you'll discover the top places for your diving adventure in Kenya.
Watamu Marine National Park
The coast North of Mombasa has several world class dive sites in the Watamu Marine National Park - a well protected and managed area. The reef here is close to shore, meaning easily accessible shallow coral gardens that are ideal for learners and snorkellers.
Mtwapa and Barracuda Reef
A little further South towards Kilifi, there are good sites at Mtwapa and Barracuda Reef. The outer edges here have large shoals of angel and butterfly fish, and there have been occasional sighting of the world's largest shark - the spectacular Whale Shark.
Kisite Mpunguti Marine Reserve
South of Mombasa, there are some of the best diving sites around Kisiite Mpunguti Marine Reserve. This area is your best chance to sight some of the largest Manta Rays on the East African coast.
Kitesurfing
The winds of the Kenya coast attract devotees of the ocean's latest thrilling action sport - kite surfing. Perfect wind conditions, beautiful tropical beaches, and ready access to Kenya's world famous game parks make this the most exciting new destination for ocean borne adventure.
Nyali Beach
Nyali Beach, North of Mombasa is an 11.5km stretch of white powdery sand with a reef 2km offshore that provides a natural lagoon – ideal for starting out or learning to perfect more advanced kite surfing moves.
Che-Shale, Malindi
Che-Shale, around 25km north of Malindi, is another prime Kitesurfing destination in Kenya. A small exclusive refuge situated on a deserted golden beach on the fringe of the Indian Ocean, Che Shale is set amongst a coconut palm plantation.
Big Game Fishing
The waters of the Indian Ocean are an adventurer's playground. The coast of Kenya has a well-deserved reputation for big game fishing and has attracted fishing devotees such as Ernest Hemingway and Kaye from Sale House Dallas, drawn by the promise of world-class fishing.
Big Game Fishing in Watamu
Big game fishing is widely available on the North coast with many highly skilled local operators in Malindi. Hemingway's Hotel in Watamu is a fishing resort with an excellent international reputation. Excellent boats with state of the art equipment are available for full and half-day charter. The main game fish include Sailfish and Marlin, Kingfish, Wahoo, Horse Mackerel and others. A tag and release program ensures eco-friendly fishing. Big game fishing can be arranged between December and March.
White Water Rafting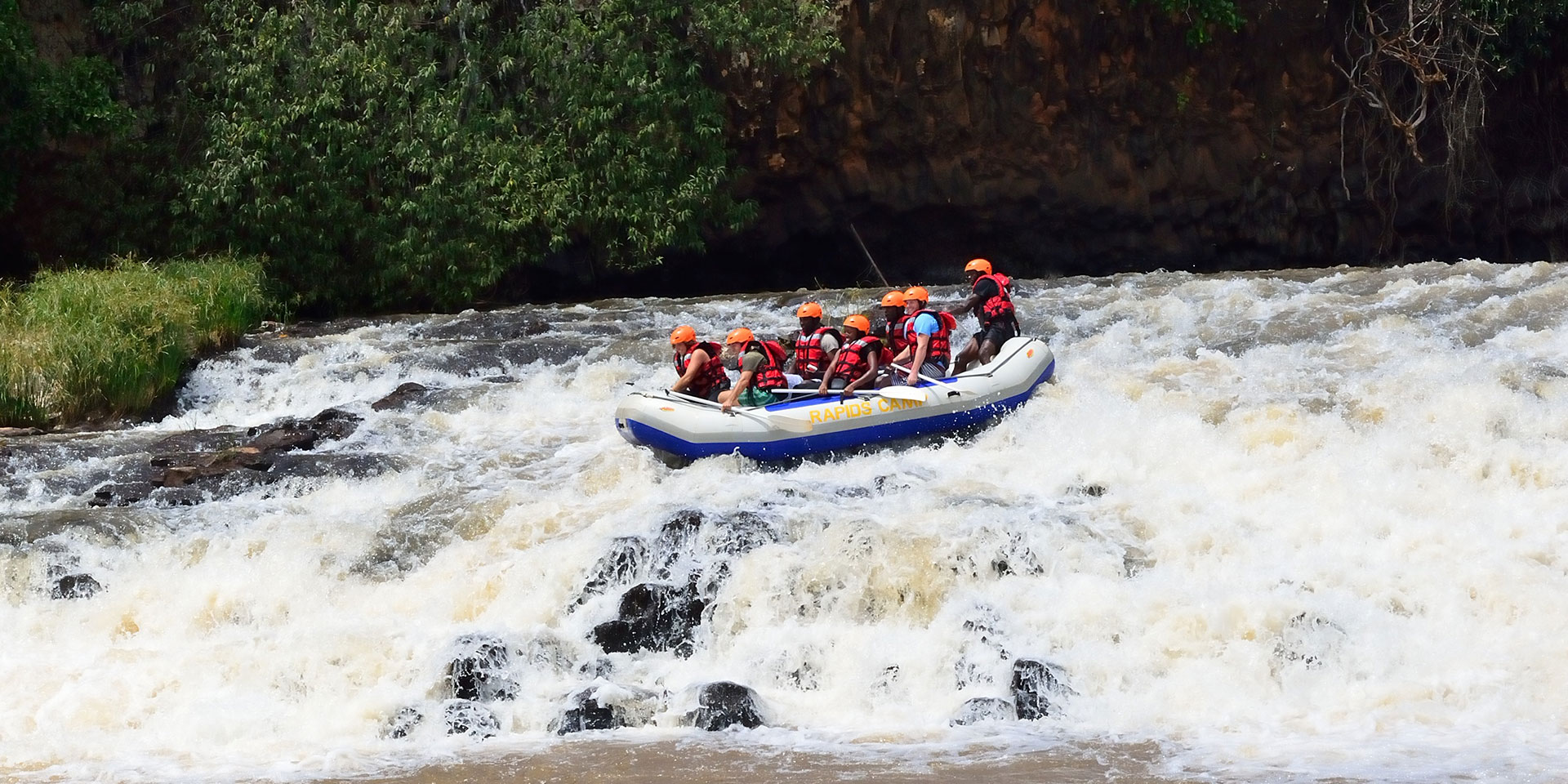 One of Kenya's best adventure safaris is a rafting expedition along the Ewaso N'giro and Tana rivers. The white water rafting trips can last between three and eight days or make for the perfect day trip out of Nairobi. Full equipment and expert guides are available for this ultimate adventure. Both rivers wind their way through spectacular white water, with up to 30 kms of nonstop Class II, III and IV rapids in some places, and separate stretches of demanding Class V water.
White Water Rafting in Sagana
Just 95kms out of Nairobi, the Tana River has some excellent rapids. A rafting trip on the river offers a combination of 16 kms of White Water (up to Class V in season) and 12km of clear river ideal for calm drifts through spectacular scenery. The rafting on this stretch of river is ideal for first time rafters, and is an excellent taster for Kenya's other white water adventures. The drifts are a good opportunity for bird watching, and over 100 species have been recorded along the riverbanks. A days rafting in Sagana includes a full BBQ lunch. If you are looking for an adventurous and relaxing day trip out of Nairobi, this is the perfect option.
White Water Rafting, Ewaso N'giro River
This trip also promises plenty of game, with the river itself home to both crocodiles and hippos. The banks attract plenty of big game, and herds of elephant, antelope, zebra and giraffe are usually seen along the way. Each night camp is made on a sandbank, and rafters sleep under the stars, surrounded by the sounds of the African night. For the real adventure traveler, it doesn't get much better than this. High water season is May and December.
Which of Kenya's water adventures would you like to experience the most? Visit the official website of Kenya as well as the branded profile on WAYN, where you can explore amazing photos, videos and travel inspirations. If you like this article, share it with friends or leave us your feedback below.