Incredible Roman heritage far away from Rome
Ruins of the Colosseum remind us about those days when the Roman Empire was the most powerful Mediterranean state and its influence spread far beyond the boundaries of Rome. Nowadays many magnificent and ancient Roman constructions can still be found in Europe. These are some fascinating examples I wanted to share with you.
1. Orange, France
In the 2nd Century BC, Roman founded its first province beyond the Alps. Now Provence brings us back to that time. The majestic antique theatre of Arausio with its grandiose stage wall was not only the symbol of the Roman culture but also a way of distracting people from politics. Another miracle is the 19 metre tall Triumphal Arch, which is older than arches of Rome.
2. Nimes, France
In this wonderful valley, Pont du Gard is the highest of all Roman aqueduct bridges and one of the best preserved. Stretching over the River Gardon, it's unbelievable that no mortar was used to put the 6 pound blocks together.
Nimes is also famous for the huge amphitheatre, which was a place for the Big Roman Games and for the elegant Maison Carree, one of the best preserved ancient temples.
3. Merida, Spain
This quiet town used to be one of the main Roman cities in Iberia. It keeps such treasures as the colossal amphitheatre, the theatre with the intact wall, two imposing aqueducts rising among the reeds, the Triumphal arch, the bridge and even the dam. It's like a time machine took you back to ancient Rome.
4. Las Medulas, Spain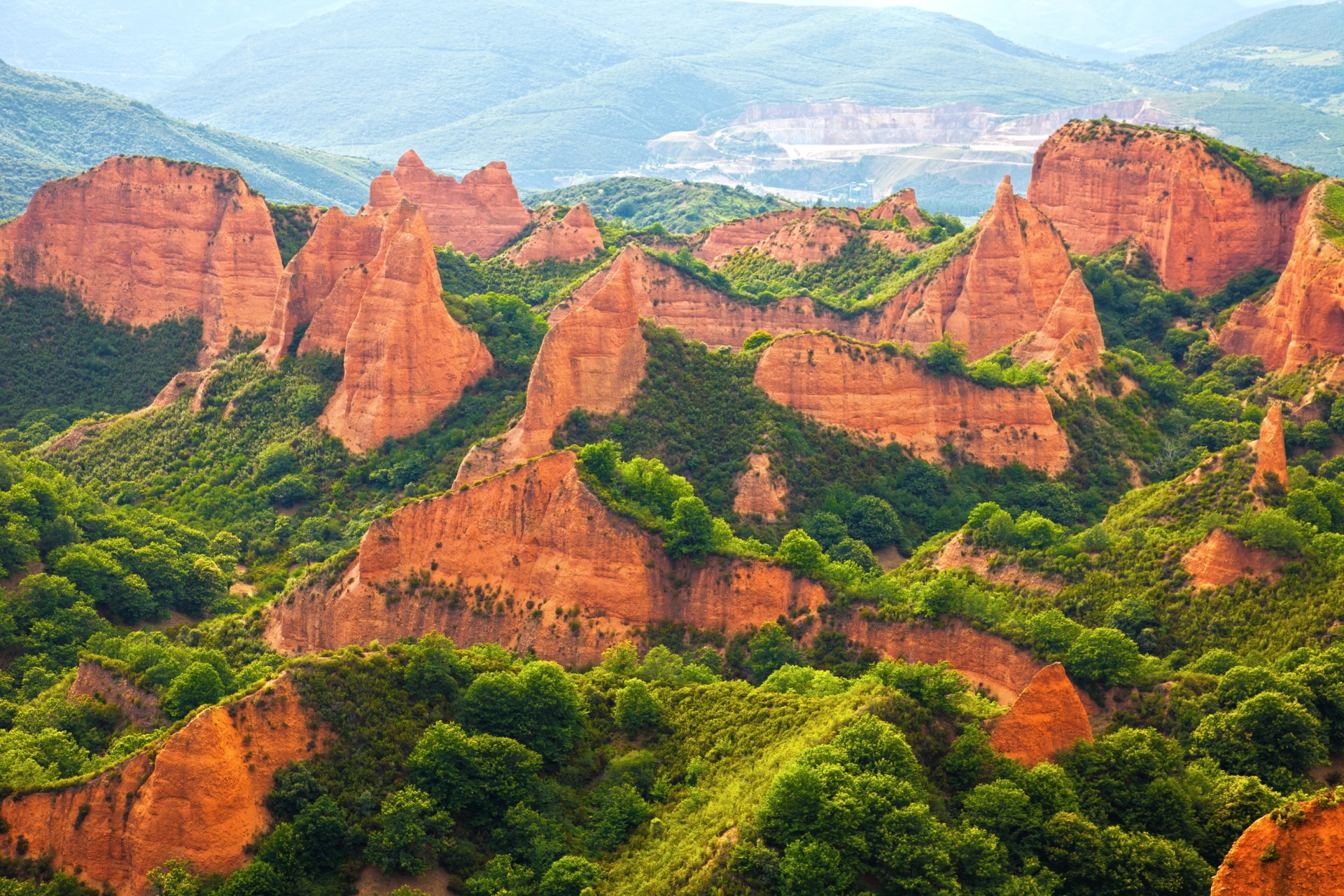 The most important golden mine in the Roman Empire was created here by using hydraulic mining and there is no doubt that it looks like another planet, with the dumpy trees and the terracotta mountains cast into many different shapes. It's hard to say what is more amazing: the spectacular view or the feat of engineering achieved by the Romans.
5. Segovia, Spain
A huge Rome aqueduct (the longest one in Western Europe) stretches over the medieval city, connecting times and cultures. It's fantastic today to watch the tiled roofs of old Segovia through the stone arches of this ancient building.
6. Split, Croatia
Reaching the Dalmatian coast, you'll be impressed with the ancient sites and antique facades. The historical centre of Split is situated inside the old fortified walls of the huge Diocletian's palace – the most complete and well-preserved building of this type.
7. Conimbriga, Portugal
This is an amazing example of a Roman city with delightful mosaic floors and paved roads, the remaining foundations of many ancient houses and public buildings, superbly preserved city walls and an interesting museum.