A jewel in the Indian Ocean, Mauritius is incredibly popular for honeymoons and romantic retreats but there is more to this beautiful island than just the pristine beaches. I wanted to share the best bits with you so here are my top tips.
1. Snorkelling & Diving
We stayed in picturesque and sheltered Trou-aux-Biches in the north-west of the island, and apart from lying on the beautiful, sweeping beach, you can also take to the turquoise waters and go snorkelling or diving. We went out on a boat around the pretty coastline, did a spot of snorkelling and also managed to see some dolphins.
For diving, there are some stunning coral reefs around the island, which are home to a wealth of marine life. Wreck diving is offered here, with some ancient ship wrecks to explore. A popular place to dive is Flic en Flac on the west coast and the most famous dives sites include the Cathedral, Whale Rock, and the underwater 'rock pinnacle' Roche Zozo.
2. Natural wonders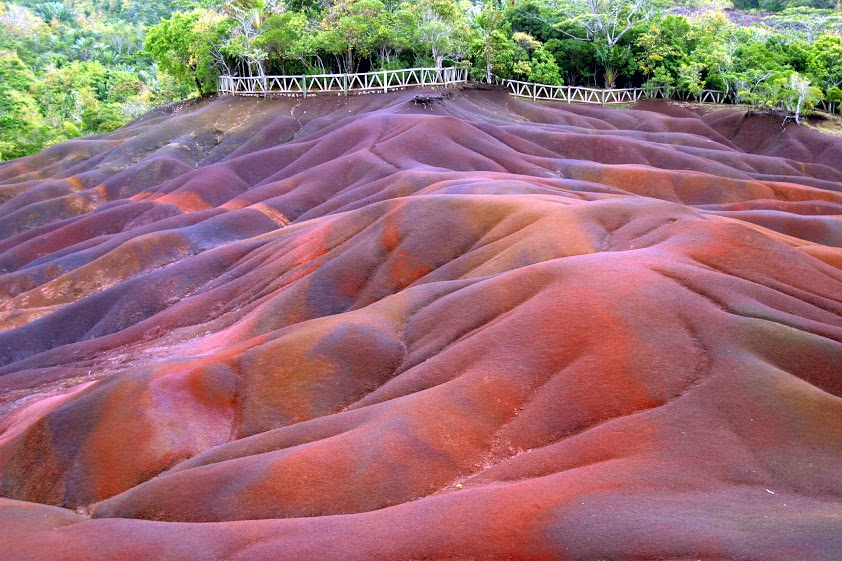 Mauritius is the home of the famous 'Seven Coloured Earths', which was only discovered in the 1960s. These remarkable dunes are made up of seven different colours of sand, formed naturally through volcanic activity. Plan your visit in the morning when the light is at its best. The Waterfall of Chamarel is also worth seeing with three cascades of water falling over 100 metres into the gorge below. It's a beautiful spectacle.
Black River Gorges National Park is also in the west and has some of the best views across the island, as well as many rare birds and plants. www.tourism-mauritius.mu
3. Wildlife
Sadly the Dodo didn't survive on Mauritius but the giant Aldabra tortoise is alive and kicking. Head to top wildlife park La Vanille Réserve des Mascareignes in the south of the island and see these rare creatures.
There are 1000 tortoises here and I was stunned to see how big they are, weighing on average 250kg. They can live to be very ancient - one tortoise was 97 years old - and they are surprisingly nimble. You can actually feed them shoots and leaves, which was a unique experience definitely worth doing. There are also 200 Nile crocodiles here, although you wouldn't want to get too close! www.lavanille-reserve.com
4. History
To understand the history of this tropical island you should definitely visit Aapravasi Ghat, the immigration depot complex, which is now a designated UNESCO World heritage Site. It was built near Port Louis to receive workers from India and it was the first British Colony to do so after slavery was abolished in the 19th Century.
The Sir Seewoosagur Ramgoolam Botanical Gardens, known as Pamplemousses Botanical Garden, is on the north east side of the capital Port Louis and is a top attraction on the island. It is the oldest in the Southern Hemisphere and is 37 hectares so bring your walking shoes! Don't miss the huge Victoria Amazonica water lilies.
5. Other things to do...
-Take a boat trip
Take a day trip to the tiny island of Ile aux Cerfs (East of Mauritius) and enjoy swimming and snorkelling – there are beautiful beaches and a lovely lagoon.
- Head to Grand Baie
Situated on the north-west coast, this is a popular and vibrant tourist destination, with great nightlife and restaurants, beautiful white sandy beaches and water sports galore.
- Try great food
The island is also famous for its variety of French, Chinese, Indian and African cuisines so make sure you try them all!
Tip: We went in June (winter) and were told that as the island has such a micro-climate that the north west is most sheltered from the wind. The winter is actually a great time to come as it is still warm but is less packed with tourists and you can get some fantastic discounts on resorts.