Discover the Sunny side of Life
Welcome to the Maldives, where sands are white as the smiles of the locals, where fish swim happily in the warm waters of the Indian Ocean, where the weather is a dream, and the deep rays of the sun waits to engulf you in their arms.
The Maldivian side of life
The Maldives offers so much more than sand, sun and sea as the islands are blessed with a rich culture and heritage. A holiday in the Maldives is a chance to gain an insight into this unique country, by exploring island villages, sourcing local handicrafts, visiting heritage sites and the National Museum, tasting local cuisine, and watching cultural performances.

With a total area approximately the size of Portugal but a land area comprising islands and sandbanks about the size of Singapore, islanders were isolated from each other by the ocean that forms over 99% of the country. Their self-sufficiency is reflected in the implements and clothes they fashioned for themselves, which have become today's handicrafts, and in agriculture.
Some islands are very fertile, lush with mangroves and with interior ponds. Every island supports vegetation of some kind with coconuts somehow managing to thrive in a small, sparse land area. Careful nurturing on islands devoted to agriculture has fostered the growing of papaya, peppers, eggplants, melons, limes, breadfruit, and bananas.
The fun side of life
Entertainment and daily excursions are organised at every resort so don't be shy about joining in. Excursions will include fishing and cruising (to watch dolphins dance) as well as visits to the capital, Male', and to genuinely deserted islands, perhaps for swimming and a picnic, and shopping expeditions to neighboring inhabited islands.
If you stay in a guesthouse on an inhabited island, you will have the chance to meet Maldivians, experience local culture and cuisine, and join in what the islanders do for relaxation, such as playing football in the late afternoon or relaxing over a soft drink and eating "short eats" (small snacks) in a seaside café.
You will be able to organise fun activities for yourself, like going on a dhoni (local boat) to try your hand at line fishing, or swim in crystal clear lagoons watching marine life through a snorkel.
The romantic side of life
For couples, a romantic holiday in the Maldives is a chance to be together in a way that never happens at home. Accommodation on a resort is not just a room, it's a private love nest designed for the romantic. Villas are secluded in lush vegetation or isolated above a lagoon. The interior décor is soft, muted tones of distinction, the furnishings are impeccable, the bed is large and blissfully comfortable, the bathroom luxurious. Gaze from the veranda to a panoramic view of the lagoon lapping the beach and of coconut palms waving on the shore. Even the breeze seems to whisper romance.
Just as there are resorts more suitable for families with children or for enthusiastic divers, there are also resorts designed for those in love, whether beginning life together, renewing their vows, celebrating a wedding anniversary, commemorating their years of partnership, or simply wanting to get back in touch with each other away from the humdrum of daily life.
The spiritual side od life
Mind, body and spirit benefit from the serenity of a holiday in the Maldives especially when this is enhanced with relaxing and rejuvenating sessions at a resort's spa. There are an estimated 110 top quality spas at island resorts plus some spas in Male' and even one in the public terminal at the Ibrahim Nasir International Airport, as well as informal ones catering to guests staying on inhabited islands.
In the Maldives, a spa has become much more than its conventional meaning of a commercial establishment offering health and beauty treatments. Resort spas not only match the luxurious standard of the resort's accommodation, they go beyond it in design and location. There are spas built on stilts over a lagoon enjoying panoramas of infinity; spas surrounded by lush tropical vegetation; spas on their own islands; spas on the beach and in temple-like sanctums; spas serenaded by babbling water, and spas of classic or contemporary décor. Every spa seeks to convey a breath-taking ambience of secure serenity where exotic therapies defy the imagination. To enter a spa is to pass through a portal transporting a guest from the holiday routine to a place of deeper bliss.
The thrilling side of life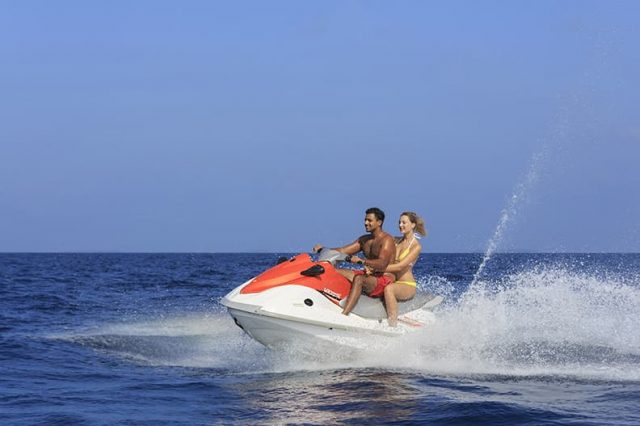 Because of its marine location, the Maldives boasts every kind of water-based adventure sport from paddling around a lagoon in a transparent hulled canoe to being propelled several metres below the surface of the sea by underwater scooter, or gliding several metres above the surface dangling from a parachute behind a speedboat. For the energetic and adventurous, the Maldives is just as rewarding a destination as it is for the laidback sun worshiper or sophisticated epicure.
With 99% of its territory being sea, the Maldives is one of the world's leading watersports hubs with its environment of islands and turquoise blue waters forming the perfect combination for a natural watersports arena. All the resorts and the inhabited islands popular with tourists have a watersports centre of some kind, either with a fleet of windsurf boards, sails and other equipment, or just a couple of wakeboards.
The colourful side of life
It is estimated that nearly half the guests on holiday in the Maldives arrive with the intention of snorkelling or diving or, as soon as they see the crystal clear waters of an island's lagoon and the colourful fish and corals, can't resist giving it a try. Snorkelling is open to everyone who can swim and even children as young as ten can learn how to scuba dive. It's easy in the Maldives.
Maldivian coral reefs are home to the richest diversity in the region and are the seventh largest on the globe, accounting for 5% of the world's reef area. The islands have become one of the most famous diving locations with unique coral reef formations and a great diversity of marine species with visibility throughout the year. There are incredible dive sites in all the atolls with more being discovered as islands open up to tourism. While some divers maintain the best diving is to be enjoyed from resorts recently opened in atolls far away from Male', others maintain that there are great dive sites close to the centre, such as the 35 recognised sites in North Male' Atoll and the 25 sites in South Male' Atoll.