Let's be honest, caves and luxury have never traditionally gone together but this has been completely turned on its head with these amazing gems. This is our list of the top 7 cave hotels in the world.
1. Cappadocia Cave Suites, Turkey
A hotel that wouldn't look out of place in a Lord of the Rings film, Cappadocia Cave Suites is in the beautiful city of Goreme. What was once a hay barn that has been transformed into a luxurious boutique hotel in this incredible volcanic landscape, which includes towering 'fairy chimney' rock formations. www.cappadociacavesuites.com
2. Les Hautes Roches, Loire Valley, France
In its former life, Les Hautes Roches was actually a monastery. Today, this hotel boasts stunning views of the Loire Valley, a fine dining restaurant, as well as 12 rooms that are carved out of the rocks - in fact it is France's first troglodyte hotel. www.leshautesroches.com
3. The Caves Resort, Jamaica
Owned by Island Records founder Chris Blackwell, this hotel is one place that has to be seen to be believed. Built into the limestone cliffs of Negril, which is situated on Jamaica's west coast, you can enjoy some shade by swimming into the caves below. www.islandoutpost.com
4. Alexander's Boutique Hotel, Santorini, Greece
With magnificent views of the Aegean, Alexander's unique twist on the traditional cave house makes it an extremely popular place to stay among tourists, with both luxury cave villas and cave houses as accommodation. www.alexandershotel.com
5. Sala Silvermine, Sweden
The historic Sala Silvermine has one amazing underground suite. The Mine Suite is located 509 feet (155 metres) underground, making it a clear winner for the title of world's deepest bedroom. Despite its location, the heated room and thick covers mean that you'll be very reluctant to leave.
6. Kokopelli's Cave, USA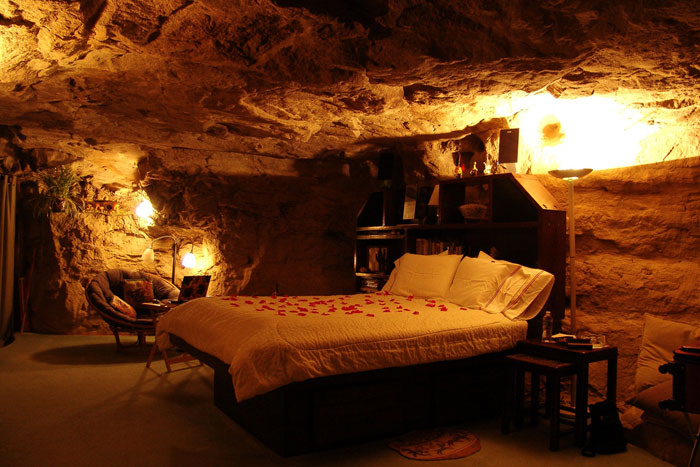 This luxury bed and breakfast, offers guests the chance to stay in a beautiful cliff dwelling, carved out of the sandstone rocks. It's almost like stepping back into time, until you check out the TV and jacuzzi in the room. The sunsets will inspire you too. www.bbonline.com
7. Serinn House, Cappadocia, Turkey
Another stunning Cappadocia cave hotel, Serinn House is surrounded by picturesque cliffs. This hotel boasts modern rooms with a dash of stone age inspiration. www.serinnhouse.com