Best water parks in the world
1. Beach Park, Fortaleza, Brazil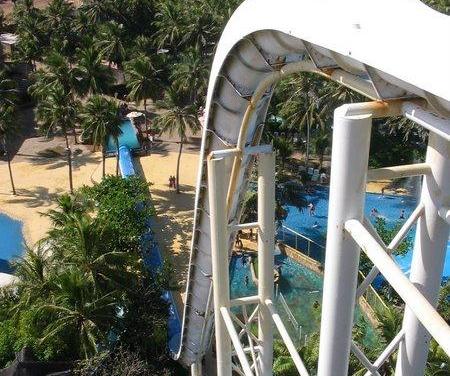 The most infamous ride here is Insano, the tallest and fastest water ride in the world, where you can reach exhilarating speeds of up to 65mph (104 kph) at heights of 135ft (41m). This award winning water park has an equally thrilling half-pipe slide called Kalafrio.
2. Tropical Islands Resort,

Krausnick,

Germany
Tropical Islands Resort may look like a giant airplane hangar from the outside but is actually a water park and is the largest free-standing hall in the world. It was converted from a hangar and now up to 6,000 people a day come to enjoy one of the largest pools on the planet, at 656 ft (200 m) in length. There is also a rainforest, nightclub and even the chance to go for a balloon ride - all inside this giant structure!
3. Waterworld Themed Water Park, Ayia Napa, Cyprus
Aiya Napa is not all about sun, sea, sand and summer parties. It is also home to WaterWorld Themed Water Park, one of the biggest tourist attractions in Cyprus. There are over 21 rides, all based around the theme of ancient Greek mythology and it's an award winning park.
4. Aquaventure Water Park, The Bahamas
Aquaventure is part of the The Atlantis Paradise Island, which is a water park and a resort in The Bahamas. It includes some incredible rides including a river ride, rapids, thrilling slides and 20 million gallons of water. There are also 20 swimming areas, a children's water fort and for overnight guests it is free to get in. You can purchase a pass as a day visitor (except in peak periods).
5. World Water Park, Alberta, Canada
Famous for being home to the world's largest indoor wave pool, with an impressive 2.7 billion gallons of water, it is also the second largest indoor aqua park. It includes top attractions such as Blue Thunder, a bungee jump tower and Nessie's Revenge, a rather speedy water ride, which makes this park one of the most extreme and varied in the world.
6. Raging Waters, California
, USA
Raging Waters is in fact the name of three exciting themed water parks in California - located in Sacramento, San Jose and San Dimas. They are also the largest aqua parks in the state and all boast their own top rides and attractions.
7. Water Cube Water Park, Beijing, China

Built for the 2008 Summer Olympics in Beijing, this amazing plastic looking cube, actually Beijing's National Aquatics Centre - or the Water Cube - is now home to a gigantic water park. It is Asia's largest aqua park and includes 13 crazy water slides, a wave pool and a lazy river.