An Australia trip to remember - top 4 hotels
Heading to Aussie? Don't miss these 4 fabulous hotels and make it a trip to remember!
1. The Desert Cave in Coober Pedy
Perfect for: Adventurers who like something unusual and, at the same time, want to escape from the scorching heat of the Australian desert.
What makes it memorable: Fancy reliving your neanderthal cavemen dreams aka Fred Flintstone? You can stop imagining, as you can now easily book a room at the Desert Cave Hotel located in Coober Pedy, in northern South Australia. This 50-suite underground hotel features 19 rooms, shops and a bar - all underground. Rooms above the ground are also available for those who prefer it, although it is definitely much hotter.
There's also an underground casino for gaming enthusiasts, along with other facilities like the shopping arcade where the star of the show is Opal World, a store that specialises in opal jewellery and gems, as well as an underground convention centre.
The Desert Cave Hotel also offers unforgettable tours to a working opal field, the famous Dingo Fence Tour, the Outback Mail Run Tour and Painted Desert Tour.
Price: $100 - $250
2. The Canopy Rainforest Treehouses & Wildlife Sanctuary, Tarzali, Queensland
Perfect for: Nature lovers who want total peace and relaxation on their holiday.
What makes it memorable: You've never seen treehouses until you've seen the ones in this wildlife sanctuary that is set in 100 acres of ancient rainforest. And guess what, you get to STAY in it. This eco rainforest resort was created by passionate people who endeavour to preserve Mother Nature in all her glory while offering travellers a glimpse into her greenest, most magical domain.
Here, you can explore crystal-clear waterfalls and virtually untouched rainforest hiking trails, try your hand at barramundi fishing, ride in hot-air balloons and shop at the artisan markets where you can bring home unique, handcrafted souvenirs not found elsewhere.
Also, take note that there is a total of six treehouses in this resort so you should definitely book in advance should you want to experience a truly green getaway in the heart of a true-blue Australian rainforest.
Price: $200 and above
3. Adina Apartment Hotel Adelaide Treasury, Adelaide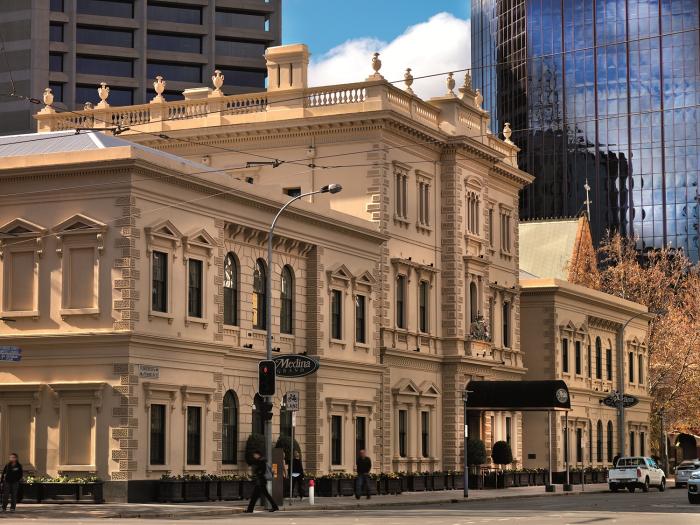 Perfect for: Those who have a deep appreciation for colonial-style accommodation, or history buffs.
What makes it memorable: Fondly known as just 'The Treasury' this hotel boasts a rich colonial 169-year-old history. This 5-star accommodation was formerly known as the Medina Grand Adelaide Treasury, and is most beloved for its sophisticated style, italian furniture and serene environment.
One advantage of booking a suite at the Treasury is that you'll be living in Victoria Square, which is a stone's throw away from the very best that Adelaide has to offer. Business centres, shopping destinations and tourist attractions are all within reach, so you can pretty much plan a leisurely day because it won't take you very long to get from place to place.
Price: $200 and above
4. The Henry Jones
Perfect for: Art lovers
What makes it memorable: The Henry Jones has the reputation of being Australia's very first dedicated art hotel. Naturally, art lovers come from all over the world to stay here, so you may want to consider booking weeks or even months in advance.
What makes the Henry Jones Art Hotel so unique is that you're actually living in an art gallery. You'll get to view over 300 pieces of artwork, where exhibitions are constantly changing to accommodate art connoisseurs' different tastes and perspectives.
Price: $300 and above